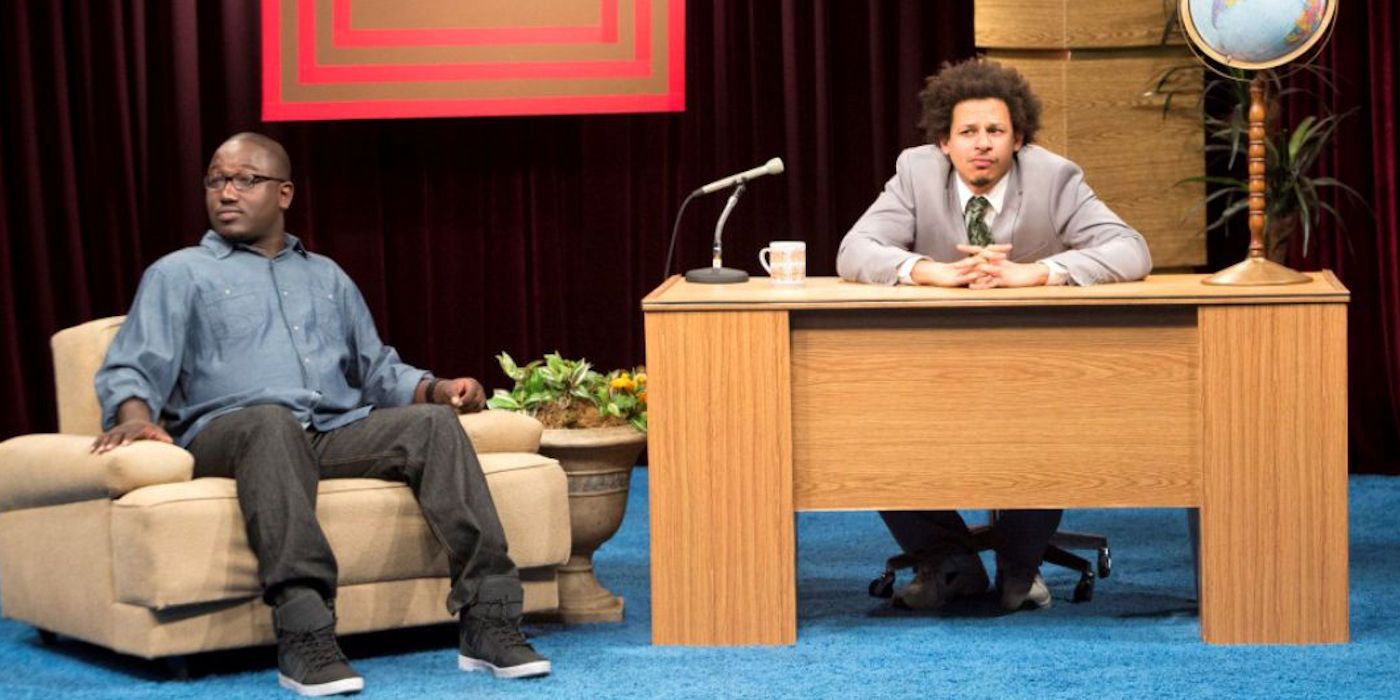 The Eric Andre Show is a satirical comedy following a talk show host known as Eric Andre. It is a high energy parody of most, if not all, late night television shows such as Jimmy Kimmel, James Corbin, Jimmy Fallon, Conan, Trevor Noah, you get the idea.
On the surface, most episodes consist of Eric """Interviewing""" any celebrity he can find, and by interviewing, I mean the Eric Andre interpretation of what an interview is. Basically his main purpose seems to be as to make the guest as comedically uncomfortable as possible. Many guests such as Jack Black, to Jimmy Fallon to even Wiz Khalifa, suffer the consequences of going on a show where a bad Hulk impersonator would try and start a fight with the guest, as the host sits back and pretends to burn his mouth on a hot pocket.
But you may be thinking to yourself, "What sets this apart from other shows were they mess with, and prank celebrities?" I think I have the answer as to what makes this show so special, and what caused this show to go on for four individual seasons, and still get raving reviews from critics and fans alike.
I believe that one of the things that makes The Eric Andre Show unique, is how Eric purely dissects the comedic process. Many times throughout the show, you'll notice that Eric makes a mockery of typical tropes that are supposed to be sincerely funny in other shows. A good example of this, is his satirical bit he does at the beginning of every episode, in which Eric gives an opening typical comedic monologue to the likes of the everyday late night talk show host, except for the twist of it getting derailed. He intentionally screws up punchlines, and tells all around poor taste jokes so that his co-host Hannibal Buress can just call him out, or he has an an outrageous visual gag (such as an attempted assassination, or a Scientologist take over) derail his efforts to preform stand up comedy. I think because of how we are conditioned to just see all jokes be well… jokes, that have a traditional setup, then punchline, I think that immense diversion from the normal comic setup is what makes Eric Andre unique.
So, along with this, it seems as Eric possesses a complete, and utter disregard for how comedy is handled in the mainstream industry, as instead of doing a sketch, or a comedic bit for the sake of his audience, he pulls ridiculous stunts and gags, just for what seems like his own enjoyment.
Sometimes, Eric will just bring his insanity out into the streets of New York City, where he does quite literally anything to get a reaction out of people, which surprisingly shows his range as a comedian, as they will ABSOLUTELY NOT stop filming until he does all he can to disorient the people around him.
A really good example of this is from season four, episode five, in which Eric just starts off by going to a car repair shop, and asking the owners how much it would cost to fit a busted up part of his vehicle. While they are explaining this to him, he just starts destroying the car with a crowbar, asking how much it would cost to repair now, with each additional strike he takes to it. And he just keeps going until he gathers a big enough crowd to further the joke, by instead of attempting a payoff to the end of it, he just flips the entire thing, and furthers it into even more insanity, and he strangely acts like he had no idea that this was even happening, and pretends to desperately call for help as "some rough teenagers" destroyed his car.
But even after that he decides to further it EVEN MORE, by asking people why they aren't helping him with the whole situation, inferring that they're weirdly prejudiced against him as he says "Hey, I'm a car too ya know!" and just starts drinking gasoline directly from the tank in awe of the enormous crowd he had already gathered. (You can view the clip here).
Now, it may not be for everyone, but you have to appropriate his immense effort, and complete disregard for his surroundings, and for the social embarrassment he gains in his intense commitment to the joke here.
One last note here before I send off and finish this article, to rewatch clips of this show ad infinitum on Youtube, as I drift off to sleep tonight; it's just that this show has a very different energy from what you'd just think at first glance. At first glance, it seems like Eric has essentially gone insane, and had gotten a camera crew to film his raving lunacy. But there's something weirdly controlled about this insanity. As I've mentioned, Eric has this co-host, who is comedian Hannibal Buress, who is somewhat of the really-not-really voice of reason throughout the show. As in, while retaining the same spontaneous humor as Eric, Hannibal has a more "chill" or "subtle" energy to him, as sort of a counter contrast to Eric Andre's constant energetic actions.
He is the polar opposite, yet ties the entire show together. This is shown in its purest form by one scene, and one scene alone, which was during the time when Eric was giving one of his "interviews" to an unsuspecting guest, Lauren Conrad, and at a specifically, lets just say "tense" moment, when Eric was pretty much making the poor woman feel like she's going insane, she looks to her side to find any sanity in the one other guy in the room, just to see Hannibal, standing there, completely unphased by the entire situation, and world around him, just chomping at an entire head of lettuce while standing up. Lauren looks to Hannibal, and all he says in his most dazed fashion is "Man you gotta eat the lettuce… it's like straight up… it's lettuce."
And moments like that, to me at least, make the entire show. You might not think it's funny, you might think it's too vulgar, or shocking, and you might even consider it the lowest of the low brow, but you've gotta admit, it has something special to it that no other show can emulate. And I think that's what more media these days need.