Last year our very own Highland Park High robotics team, 2823, made it to the championships in St. Louis, MO. They had many victories and ended up leaving with the title "Most Creative in Minnesota."
Now it's a brand new year and the whole team is looking forward to what this new school year brings. I interviewed some of the team members and mentors about what happened last year in St. Louis, what they have been doing this summer, and what is to come for this year on the team.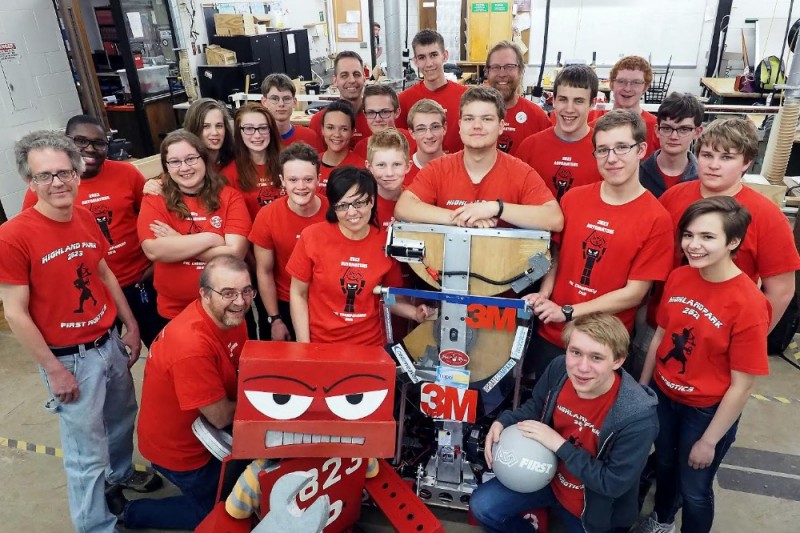 Photo from Go Fund Me Page
Name/ Grade: 
Moriss: 10th
Qwadir: 11th
Talking About St.Louis
So last year in St.Louis I would say we did a fairly amazing job. How do you think we did and why?
Moriss: We did amazing. They say we were the last team to be undefeated but technically we were undefeated in my opinion.
Qwadir: We attended the FIRST Championships and it was actually pretty spontaneous and ended up going undefeated in qualifications.
What was the best part of being in St. Louis with some of the team for the championships?
Moriss: Interacting with the other teams.
Qwadir: How well we did and how unexpected it was for us to do that well.
Summer!!
What has the team been doing over the summer to raise awareness about the team or robotics in general?
Qwadir: The biggest thing, first off, the better organization. Getting more structured and organized. We have also been attending the Highland Fest and the State Fair.
Whats to expect this year on team 2823
What do you think is to come this year for robotics?
Moriss: I have higher hopes for Duluth (where the State Championship is held) and robotics in general
Qwadir: Steampunk industral aged theme game. From the team a great preformence and going to champs again.
Do we see Duluth as another possibility this year?
Moriss: Yes, I do.
Qwadir: For sure. We are definitely going to Duluth again. We are already securing the funds.
What would you say to someone thinking about joining the team?
Moriss: You should join because we have a lot of opportunities to learn new skills and build more friendships.
Qwadir: Definitly, just come and see what it's about. We are here every Thursday in the fall. There are a lot of things to do besides just build the robot.
The Go Fund Me Page
Our robotics team has a Go Fund Me page. Definitely go check it out. It supports the team a lot and also gives the team more opportunities for competition and building. The team goal is $10k. The goal of the team is to develop and apply the knowledge of science, math, business, teach leadership, and problem solving. More info can be found on the Go Fund Me page: https://www.gofundme.com/txf7z5qc